United Plating, Inc. Metal Plating & Metal Finishing
Plating, Anodizing, Painting, Screen Printing and More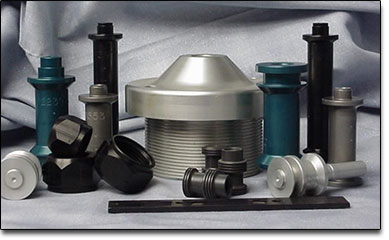 United Plating is a specialist in metal finishing services such as plating, anodizing, painting, and much more. With twelve fully-automated and five manual lines in over 150,000 square feet of production space, our facility and experienced staff are capable of handling the most demanding of your metal coating requirements. Our quality manufacturing facility and processes are NADCAP and AC7004 Certified, as well as ITAR Registered - conforming to the strictest specifications of the Automotive, Aerospace, Military, Medical and Industrial sectors.
United Plating also offers related services such as sandblasting, part marking, light assembly, kitting, and a modern laboratory with the testing capabilities needed to ensure compliance with specifications. Our Quality Systems for metal coating and metal finishing have improved production, performance, on-time deliveries, and reduced defects - ensuring our customers' ongoing satisfaction.
Established in 1973, United Plating is located in Chase Industrial Park in Huntsville, Alabama - home to NASA Marshall Space Flight Center and the U.S. Army's Redstone Arsenal. Customers like Boeing, Lockheed Martin, General Electric, Cessna, SpaceX, and others have given us their stamp of approval. They know supporting our customers "beyond expectation" is the primary philosophy and guiding business principle at United Plating. To this end, our company is constantly evolving and continuously improving to meet market demand, quality, and price to performance value. For additional information, please contact us.